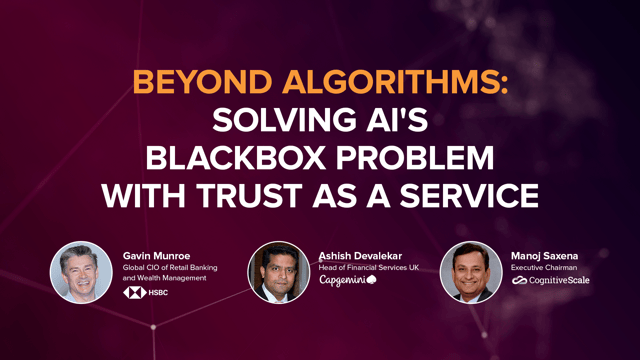 Machine Learning and Artificial Intelligence are here to stay and are rapidly being adopted in virtually every domain – from healthcare to finance and public safety and entertainment, to name a few. However, most automated decisioning models today—ML algorithms, statistical models, and rules—are blackboxes that often function in oblique, invisible ways for both their developers and especially consumers, boards, and regulators.

Learn how AI experts in the financial industry are tackling this blackbox problem head on by managing and mitigating data risks, bias and AI/ML project stall at the enterprise level from the leaders in the industry.

Join Gavin Munroe, Global CIO of Retail Banking & Wealth Management at HSBC, Manoj Saxena, Executive Chairman for CognitiveScale, and Ashish Devalekar, Head of Financial Services CapGemini UK, to discuss the latest in AI and the idea of Trust as a Service in the industry.