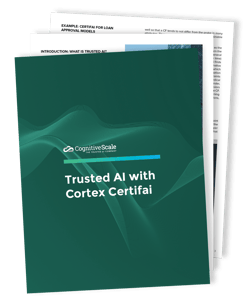 Get Our Whitepaper!
Spending on Artificial Intelligence (AI) is expected to more than double from $35 billion in 2019 to $79 billion in 2022, according to IDC forecasts, reflecting the enormous potential societal benefits of AI. Yet broad adoption of AI systems will not come from the benefits alone but from the ability to trust these dynamically evolving digital systems.
Trust is the foundation of all digital systems. Without trust, artificial intelligence and machine learning systems cannot deliver on their potential value. To trust an AI system, humans must have confidence in its decisions.
Learn how the six key dimensions that enable trusted AI can enable your business to operationalize automated decisions with minimal business risk.